Miley Cyrus Working On 'Big Bang' Film
-Posted by: Nancy
Back in November, Rock Mafia's Tim James revealed to MTV News that plans were being formed to turn the sexy clip for their tune "The Big Bang" into an even-sexier movie starring its video girl, Miley Cyrus. Now it seems the project is well under way.

E! News reports that Miley's mom, Tish Cyrus, has been meeting with Suzanne Todd - a producer on films such as "Alice in Wonderland," the "Austin Powers" films and "Memento" - to turn the music video into a full-length feature. Sources tell the website Miley is looking to reprise her role to pick up where her ghostly character left off. There's no word yet if Kevin Zegers will return to the project.

Rock Mafia's Antonina Armato tweeted about the project, for which her team would reportedly help write the script. "Just had a Meeting with Tish Cyrus and Suzanne Todd for 'Big Bang' To be made into a Movie!!! #fingerscrossed," she tweeted Monday. A rep for the group did not respond to MTV News' request for more information by press time.

... Read More ...



New Wallpaper!


-Posted by: Nancy



As we look back at the amazing four seasons of Hannah Montana, enjoy this new FANSTATIC wallpaper made by our wonderful graphics maker Sam!


Miley Cyrus scored big ratings for the Disney Channel with the series finale of her hit show Hannah Montana.
-Posted by: Nancy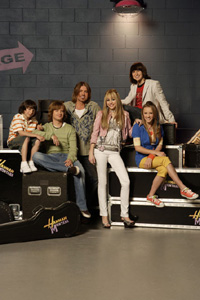 The series finale of the hit show Hannah Montana, starring Miley Cyrus, pulled in 6.2 million viewers for the Disney channel -- breaking its record during the fourth season by nine percent!

Hannah Montana debuted in 2006 -- when Miley was just 14 years old --and turned her into a huge success, with two full-length spin-off movies, albums, products and more.

The show is about a student named Miley who leads a dual life as the singing sensation Hannah Montana (the blond wig apparently makes her unrecognizable to her friends). The show stars her real life father, Billy Ray Cyrus, plus Jason Earles, Emily Osment and Mitchel Musso.

Miley Cyrus said that even though Hannah Montana is ending, the show will stay with her. "I don't think that's something that's going to be completely over," she told TV Guide. "I'll always be involved with that. And the show won't just come to an end. There will always be reruns and stuff like that, and I think it's something that I'll always want to keep in my life. It's something that has really affected me and put me where I am today."

Her father, Billy Ray, said he admired his daughter for seeing the series through to the end. "Quite frankly, I give a lot of credit to Miley for taking it to another year. She didn't want it to just end with whatever was the last episode we did. She wanted it to build to where there's a moral to the story, to where it doesn't just end and go away and that's it. She wanted there to be an official ending to Hannah Montana." ... Read More ...

Hannah Montana Series Finale: Hugs and Warm Fuzzies for Everyone (Even Rico!)
-Posted by: Nancy
After four years of hijinks, squabbles and crazy wigs, Hannah Montana sang its swan song with a - we'll say it, teary ! - hour-long series finale Sunday.

The episode focused on the longstanding friendship between Miley (Miley Cyrus) and Lilly (Emily Osment), who have made plans to attend Stanford together. Unfortunately, just before orientation, Miley is offered a role in a Steven Spielberg blockbuster opposite Tom Cruise and shooting in Paris. What's a famous-yet-loyal friend to do?

In the end, both Miley and Lilly make the right choices for each of them, but not without exchanging some tearful words and big hugs -- a smart move considering that the girls' friendship was the heart of the show.

Jackson (Jason Earles) also had a parallel friendship story when his nemesis and frequent antagonist Rico (Moises Arias) realizes that Jackson is the closest thing to a friend he has. Rico comes through with Jackson's dream job -- a video game tester - good for earning enough money to reciprocate his girlfriend Siena's (Tammin Sursok) pricey gifts.

Also joining in for a final farewell were dad Robbie (Billy Ray Cyrus), Lilly's soulmate Oliver (Mitchel Musso), Miley's boyfriend Jesse (Drew Roy) and mean girls Ashley and Amber (Anna Maria Perez de Tagle, Shanica Knowles). ... Read More ...

More So Undercover!


-Posted by: Nancy



Miley's been very busy on the set of her new movie and we've got even more pics! Enjoy all these gorgeous pics of Miley! =D


A look Back On Miley


-Posted by: Nancy



Check out this video as E! looks back on Miley's career!





So Undercover


-Posted by: Nancy



We've add two new sets of Miley on the set of her new movie, So Undercover! Enjoy! =D


Miley: Get Her Good On for the Cysitc Fibrosis Foundation!


-Posted by: Nancy



Watch this new video of Miley talking about getting your good on!





Remember Haiti
-Posted by: Nancy
A year ago the world wept at the devastating images from Haiti. Shortly after the earthquake, I asked all of you in the Get Ur Good On community to support relief efforts in Haiti. I want to thank everyone that answered my call to help by selling bracelets, hosting bake sales, creating music videos, and so much more. It has been 1 year since the earthquake, but there is still work that needs to be done. I want you to continue getting your good on for Haiti and donating the money you raise to organizations that are still helping there like the Red Cross and the J/P Haitian Relief Organization. Remember to share your blogs, pics, and videos on GetUrGoodOn.org; I want to see all the good you're doing.



Xoxox Miley

New Graphics!


-Posted by: Nancy



Our wonderful graphics makers Sam and Kendra have added some beautiful graphics to our gallery! Check them out! =]